Standard Motorcycles,  Cruisers, Sport Bikes & More

There are many different types of motorcycles, sport bikes & cruisers for commuting and leisure as well as riding on roads, streets & highways.
Types of Road / Street Motorcycles
On-Road motorcycles are designed for on-road use (commuting/leisure) and are equipped with all of the street legal required components such as turn signals, headlight, taillight, DOT tires, horn, emission requirements, mirrors, a license plate, and any state-specific required equipment or components.
Most on-road motorcycles are either of two or three wheel configuration.  On-road motorcycles can be broken up into multiple segments such as cruiser, standard, naked, touring, cafe, bobber, custom, sport, super sport, sport touring, trikes and autocycles. Examples  of manufacturers that make On-Road motorcycles are Harley-Davidson, Honda, Yamaha, Suzuki, BMW, Indian, Victory, Ducati, Aprillia, MV Agusta, Moto Guzzi, Triumph, Norton, Can-Am, Buell, Husqvarna, Kawasaki, KTM, Royal Enfield, and Ural). Engine size ranges from 150cc to over 2000cc engines. 
Standard Motorcycle
A standard motorcycle is also designed for long rides with an upright and comfortable seating position. Leg position is most commonly straight down. Commonly these are powered by inline engines but can be other types. 
Naked Motorcycle
A naked motorcycle is designed for performance in an upright riding position. These types of motorcycles can still be used for long rides.  Leg position is straight down.  A naked motorcycle in its essence is a stripped down version of a sport bike.  Plastic cowling is kept to a minimum.  Most of these types of motorcycles are powered by inline type engines. Naked motorcycles are lightweight and usually include similar advanced technologies of a sport bike. 
Cruiser Motorcycle
A cruiser type motorcycle is designed for long rides with an upright and comfortable seating position. Leg position is either straight down or forward. Depending on the manufacturer, v-twins and inline engines are commonly used for these types of motorcycles. A lot of riders tend to customize these types of motorcycles with bolt-on accessories, custom exhaust, custom paint and chrome.  
Touring
Touring motorcycles are designed for very long comfortable riding.  They tend to have a laid back or upright seating position with a straight down or forward leg positioning. Touring motorcycles have storage, advanced shocks (for plush riding), advanced technologies, stereo/gps and wider tires. Touring motorcycles tend to be the heaviest of all motorcycles because of all of the components on board.  These types of motorcycles are often converted to trikes and heavily customized as well.  They also tend to be powered by v-twin and inline engines.  Sidecars may also be a common accessory of touring motorcycles. 
Bobber Motorcycle
A bobber motorcycle is designed for vintage styling, minimal components and an upright seating position. Leg position is usually straight down. Fenders are usually cut short and all unnecessary components are removed to keep weight to a minimum. Satin and custom paints are used often. Bobbers are commonly powered by v-twins and parallel twins.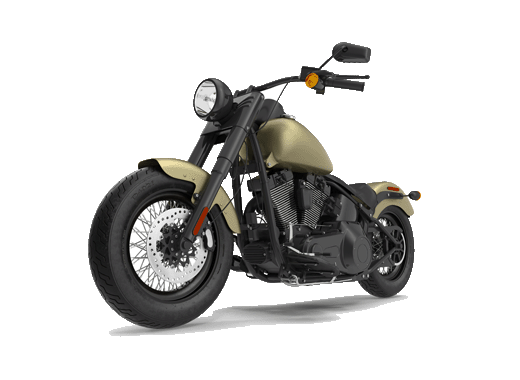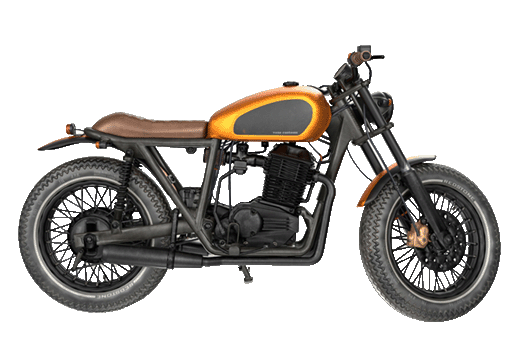 Cafe
A cafe motorcycle is designed for performance with an aggressive riding position for quick rides over short distances.  Leg position is swept back and bike weight is kept to a minimum. The cafe is a predecessor to the modern sport bike and commonly powered by the iconic parallel twin engine. Most of these types of motorcycles are vintage styled. 
Custom
A custom motorcycle is custom built for the purpose of aesthetics, performance, racing and/or all combined. A custom motorcycle like a chopper may have rigid rear suspension and an extended front end.  A custom built racing motorcycle may be stripped down to only performance based needs. Riding position can be aggressive or laid back depending on the rider. Paint, chrome, and accessories can all be custom. Powerplants range from v-twin, parallel twins, and inline engines.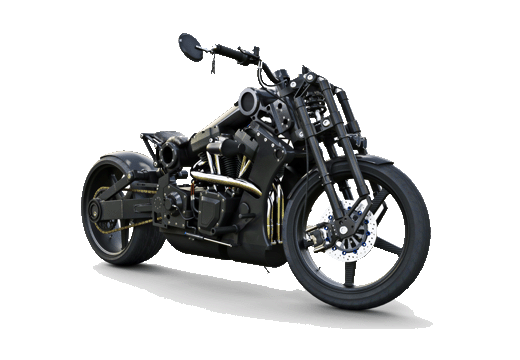 Sport
A sport bike is designed for on-road performance. Riding position is aggressive with the leg position swept back. Sport bikes may not be comfortable for longer rides.  Sport bikes are usually wrapped in plastic cowling for aerodynamics, and have performance composition tires. Lightweight metals like aluminum and magnesium are used to reduce weight, and these bikes are usually equipped with advanced technology.  Engines commonly used on sport bikes are high performance inline types. Sport bikes like cruisers are popular for customization as well. Custom paint, chrome, and extended swing arms are commonly found on sport bikes. 
Super Sport
A super sport bike is solely designed for racing/on-road performance.  Rider position is aggressive with leg position swept back.  A super sport is similar to a sport bike in the way it looks, but is designed to go faster and be lighter. Carbon fiber, magnesium and other extreme lightweight materials are used to make the motorcycle as lightweight as possible. These materials do drive up the price of a super sport compared to a sport bike.  In most common makes, a "R" or "RR" designation is assigned to the model.  Advanced technologies are enabled in the riding modes, braking and handling. These motorcycles use inline and twin engines often with cross-plane crankshafts.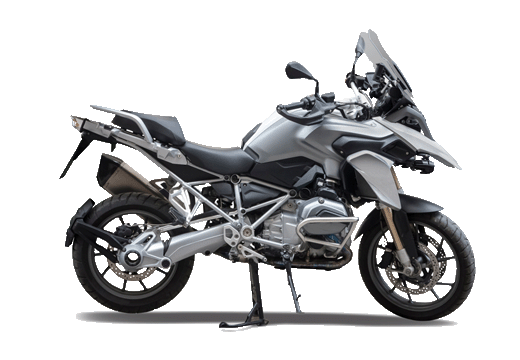 Sport Touring
A sport touring motorcycle is designed for performance and long rides.  Riding position is from aggressive to up right, Unlike a sport bike which is solely designed for performance, sport touring motorcycles have storage, larger fuel tanks, adjustable suspension, and navigation systems. Also unlike sport motorcycles, sport touring motorcycles are not as lightweight, but still much lighter than standard touring motorcycles. A lot of sport touring motorcycles still have performance inline engines as power plants. 
Trike Motorcycle
A Trike motorcycle is designed for on-road use and is similar to a cruiser / touring with the big difference of a trike having three wheels. Riding position is laid back with leg position straight down or forward.  A trike can either be converted from a standard two-wheeled motorcycle or manufactured straight from the OEM.  Trike conversion kits are made by a variety of manufacturers for a variety of different motorcycles. Some of these kits replace the rear of the motorcycle frame, while others simply bolt over it. Trikes do not lean in the same way of a traditional motorcycle and can be used for very long rides. Certain companies configure trikes with two wheels at the front of the motorcycle while the traditional trike is two wheels at the back of the motorcycle. The arrangement of three wheels allows for larger storage, but at the cost of much heavier weight. V-twins and inline engines are the most common power plants for trikes.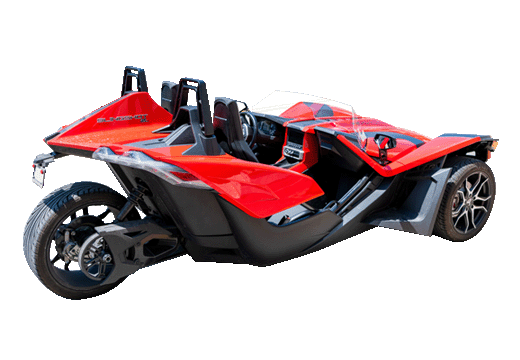 Autocycles
Autocycles are designed for on-road use, but unlike a motorcycle or trike these are driven like a car.  They do not have more than three wheels. Autocycles have street legal components such as lighting, horns, turn signals and DOT approved tires, but they also have seats, steering wheels and gas pedals. Commonly autocycles do not have a covered cockpit area, but incorporate roll cages.  Most autocycles are powered by motorcycle engines like a v-twin or inline engine. Autocycles are customized often with custom paint, chrome, wheels and sound systems. Manufacturers that make autocycles are Polaris, Campagna, Volkswagen and Morotti. Engine sizes range from 1400cc to 2500cc engines.