How to Ride With a Sidecar
Riding a motorcycle with a sidecar is a much different experience than riding a standard two-wheeled motorcycle.
Have you ever ridden a motorcycle with a sidecar? 
Riding a motorcycle with a sidecar is a much different experience than riding a standard two-wheeled motorcycle. Unlike a standard motorcycle on two wheels, the sidecar adds not only weight, but another set of wheels. 
There were a number of manufacturers who would install a sidecar directly from the factory. Harley-Davidson, Honda, Triumph, BMW and Ural were the major ones, but now it seems that Ural is the only one still doing it in larger numbers. Most manufacturers of sidecars other than Ural do not include a drive wheel on the sidecar itself. Ural does offer one and two-wheel drive versions. Two-wheel drive versions offer great traction off-road. Reverse gear is also helpful moving the more bulky heavyweight machine.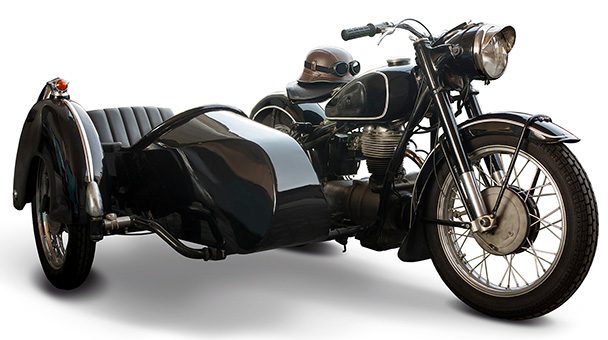 Riding with a sidecar starts off the same way as riding any motorcycle would. A pre-ride safety inspection should be done to check all of the safety components of the motorcycle as well as a motorcycle helmet and gear check for the rider themself. If there is going to be a passenger in the sidecar, they need to wear a helmet and protective gear as well. Potentially, a person can ride on the back of the motorcycle and in the sidecar. If the sidecar is empty, just make sure there are no loose items and that the weight is distributed equally. Some motorcycles have trunks. Another extra feature is a cockpit cover. This will minimize wind drag when the sidecar is not in use. 
Where a motorcycle with a sidecar differs from a standard motorcycle is when you take off. Unlike a traditional motorcycle, the motorcycle and sidecar are not leaning on a kickstand. You essentially can get on it and go. The extra weight and bulkiness of the sidecar will change the way you think a motorcycle is ridden. Instead of leaning hard into turns, the front end basically guides the motorcycle in the direction you want to turn. This may create some resistance. Most people try to counteract leaning in the opposite direction of the sidecar, but it is inevitable to stop the sidecar from elevating. It takes practice to keep this to a minimum. Reducing speed coming into the turn is the best way to achieve this. Never, for any reason, should you elevate the sidecar with a person inside of it. Riding with a sidecar may feel like you're trying to counteract the weight, but a properly set up sidecar will track straight down the road. The only issue with this is when you are turning, it may still feel like it wants to track straight.
Plan ahead, practice without any passengers and reduce your speed coming into turns. These are the best tips to give a new sidecar owner. Just like riding a trike or ATV, it will come naturally once you practice it more and more. You can also see if there are sidecar training courses available in your area. Motorcycles with sidecars make great adventure vehicles. Get out there and have fun!