Arizona Motorcycle Insurance
Motorcycle Insurance for Independent-Minded Arizonans

Hey Arizona! We've got rider-focused insurance for on and off-road motorcycles, ATV / UTVs and other powersport vehicles in Arizona. Get a quote online, or scroll to learn about motorcycle insurance in the Grand Canyon State.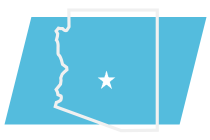 Boundless Rider has rolled out rider-focused insurance in Arizona for on and off-road motorcycles and powersport vehicles. (e-Bikes coming soon). Arizona riders can get affordable coverage along with access to some very cool rider perks and resources. With low rates, insurance discounts and optional coverages available for better protection, riders in the Grand Canyon state can now ride worry-free.
We got you covered.
Mandatory Insurance in Arizona
Motorcycle Insurance Requirements

In Arizona, every motor vehicle operated on roads in Arizona must be covered by liability insurance, including motorcycles, mopeds and scooters. Mandatory coverage includes bodily injury liability, guest passenger liability and property damage liability. 
Arizona-required minimum limits of liability coverage for bodily injury (BI) are $25,000 per person, $50,000 per accident, and $15,000 property damage (PD) coverage per accident.
Optional Coverages: Higher Limits, UM/UIM & Medical Payments
Arizona Limits of Liability Options for Bodily Injury and Guest Passenger Liability (Per Person / Per Accident)
25,000 / 50,000 (mandatory minimum limits)
50,000 / 100,000
100,000 / 300,000
Call for Higher Limits
Limits of Liability Options for Property Damage
10,000 (mandatory minimum limit)
15,000
25,000
50,000
Call for Higher Limits
Uninsured / Underinsured Motorist Coverage (UM) (optional)
Uninsured / Underinsured Motorist Bodily Injury (same limits as BI)
Medical Payments Coverage (optional)
Optional Coverages: Comprehensive & Collision
Although not required, in order to protect your vehicle from physical damage, regardless of fault, these coverages should be considered. 
Optional Insured Motorcycle and Powersport Vehicle Coverage
Comprehensive (ACV up to $60k)
Collision (ACV up to $60k)
Deductible Options (Comp & Collision only)
Optional Coverage Enhancements (Comp & Collision only)
Helmet & Safety Apparel (included), $2k limit
Physical Damage Plus (OEM parts coverage)
Replacement Cost Coverage
Optional Equipment Coverage (Comp & Collision only)
$5000 included on motorcycles (including dual-sport bikes)
$1000 included on off-road vehicles (including dirt bike, ATV, UTV, snowmobile)
Option limits up to $20K
Additional Optional Coverages
Boundless Rider offers several ways for riders to customize their motorcycle insurance coverage, or powersport vehicle insurance coverage, to suit their individual needs.
Whether you transport bikes with a trailer or simply want better protection, our rider-focused insurance coverage enhancements are a great way to fit your insurance policy to your unique needs as a rider.
Check out some of our optional insurance coverage enhancements and endorsements.
Ride Boundless … Through the Open Air in Arizona!
Get a worry-free motorcycle insurance quote to discover a new level of independence and protection with Boundless Rider. Whether you ride through Phoenix, Mesa, Flagstaff or the red rocks of Sedona, we've got you covered. 
Not an Arizona resident? No worries. Get insurance in Texas or, chances are, we'll be heading to your state soon. Join our waitlist to be notified when we roll into your state. 
Content on this page is intended as advertising statements and is not an offer or promise of insurance coverage. This content should not be relied on when determining actual terms, conditions and exclusions applicable to a specific insurance policy. Limits and restrictions may apply. Always check with your agent about specific policy coverages, as well as applicable website(s) for state insurance coverage requirements.