Motorcycle Licensing, Training & Insurance
You can experience true freedom exploring California when you ride a motorcycle in the year-round sunshine. To ride a motorcycle in California, learn about getting a motorcycle license and operating a motorcycle in the Golden State.
How To Get a Motorcycle License in California
To legally operate a motorcycle in California, you'll need to be at least 15 ½ years of age and obtain a valid California motorcycle license. You can choose from the following types of motorcycle licenses:
Class M1 lets you operate any two-wheeled vehicle, including the ones listed for Class M2.
Class M2 lets you operate a moped, motorized bicycle, or any bicycle with an attached motor. 
Class C lets you operate a motorcycle with a side car, three-wheeled motorcycles or motorized scooters.
California motorcycle license requirements vary by age, keep reading to find out more.
Getting your Motorcycle License for Those Under 21
If you are under 21 years old, you can apply for a motorcycle license only if you have had a motorcycle permit for at least six months. You can then go to the DMV (Department of Motor Vehicles) office to submit the following:
Instruction permit showing that you've had it for at least six months.
Proof of completing driver education and training, if you do not have a valid California driver's license.
Certificate of Completion of Motorcycle Training (DL 389). When you have this certificate, you won't need to take a skills test but may need to successfully pass an observation test.
Proof of identity, social security number, and two proofs of residency, if you're applying for a REAL ID.
You'll then receive a temporary motorcycle license that is valid for 60 days. Your permanent license will be mailed to you.
Motorcycle Licenses for Those Over 21
You don't need an instruction permit if you're over 21 but you must either pass a motorcycle driving test at the DMV or successfully complete a California Motorcyclist Safety Program training course that is approved by the California Highway Patrol (CHP).
To apply for a motorcycle license, submit the following at your nearest DMV office.
Application for either a driver's license or identification card.
Social security number.
Identity document, such as a US passport or birth certificate, to prove your identity.
California Driver's License or ID Card (if applicable), otherwise you need proof of your residency with acceptable documents, such as a rental agreement or utility bill.
Nonrefundable application fee.
Proof of completing the safety program. If you did not pass the program, you will be required to take the motorcycle skills test.
You must then pass vision and knowledge tests. Then knowledge test is based on the information in the California Driver Handbook. Note that you cannot use any testing aids, such as cheat sheets, tablets, smartphones, etc., during the tests, or you'll receive an automatic failure.
Finally, you must have your fingerprint scanned and your picture taken. You'll then receive a temporary license that is valid for 60 days. Your permanent license will be mailed to you.
Taking the Motorcycle Skills Test
If you decide to take the skills test, you must make an appointment ahead of time. You must provide proof of financial responsibility that meets the California Insurance requirements. Your application fee allows you to take the test up to three times to pass it.  You can take the test up to 3 times.  If you do not pass on the third attempt, you will have to apply for a new application, before testing again.
During the skills test, you will be asked to identify parts of a motorcycle, such as the throttle, gear selector, and kill switch. You'll then have to demonstrate maneuvers like riding within the tracking paths, weaving in and out of cones and riding in a circle twice.
Motorcycle Training Courses
The California Highway Patrol (CHP) has approved two types of motorcyclist training courses that can be taken through private providers throughout the state.
Motorcyclist Training Course (MTC):  This course is mandatory for anyone under the age of 21 but is recommended for all those new to riding or those with little to no on road experience.  It includes five hours of classroom instruction and 10 hours on a cycle. Motorcycles and helmets are provided.
1-Day Premier Course. This is recommended for riders who are 21 or older who have riding skills but are not licensed. Successfully completing this course waives the need to take a skills test but you still need to complete the written test. Training motorcycles are provided although riders may provide their own if they meet certain requirements.
California Motorcycle Insurance
You will need to meet the minimum insurance requirement to ride for your motorcycle in California:
$15,000 bodily injury per person
$30,000 per accident
$5,000 property damage
These are the same limits required for insuring automobiles in California.  When registering your bike, you must present evidence of this insurance. You must also show this proof when requested by law enforcement or if your vehicle is involved in a collision.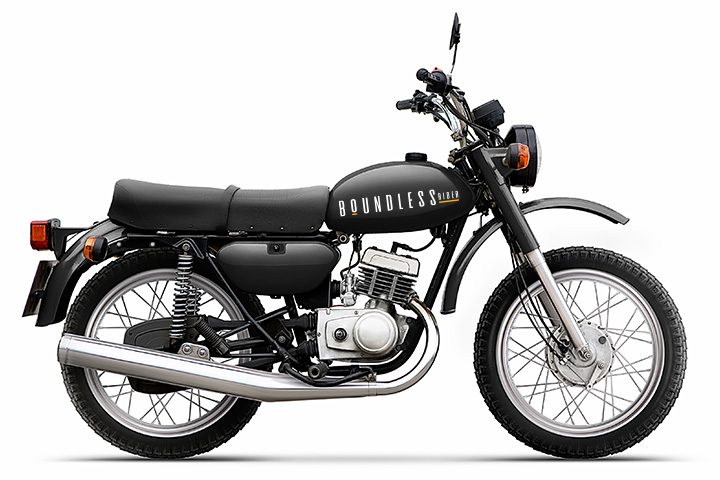 Motorcycle & Powersport Insurance for Riders Only
You now have the information you need to get your California motorcycle license or endorsement, but you might still be unsure about the right motorcycle insurance coverage for you. Learn about motorcycle and off-road insurance.
To get notified when Boundless Rider motorcycle and powersport insurance is available in your state, click below.
The content included on this website is for informational purposes only and not for the purpose of providing legal advice. For complete and up-to-date information, please review the links within this article, section or page, and visit the applicable state and governmental agency websites.